This is a new JD Edwards EnterpriseOne book that will be out Dec. 15th, 2008. Below are the details that are found on Amazon.com: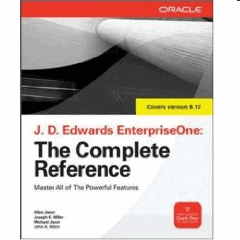 JD Edwards EnterpriseOne: The Complete Reference
A comprehensive guide to J.D. Edwards EnterpriseOne
Written by practicing J.D. Edwards EnterpriseOne experts and professionals, this book is unbeatable in terms of coverage and authoritative information. You will get all the in-depth knowledge you need–from implementation and administration to troubleshooting and security. J. D. Edwards EnterpriseOne: The Complete Reference expertly combines insightful information with real-world examples. It is ideal for both novice and veteran users.
About the Author
Allen Jacot has more than a decade of J.D. Edwards EnterpriseOne implementation experience and has worked with the product since its original beta release in 1996.
Joseph E. Miller has worked on more than 60 implementations of the EnterpriseOne/OneWorld product over the last 10 years.
Michael Jacot is a senior principal consultant for Oracle J.D. Edwards Consulting Services and has managed many different types of EnterpriseOne implementations.
John A. Stern has participated in more than 30 EnterpriseOne implementations.