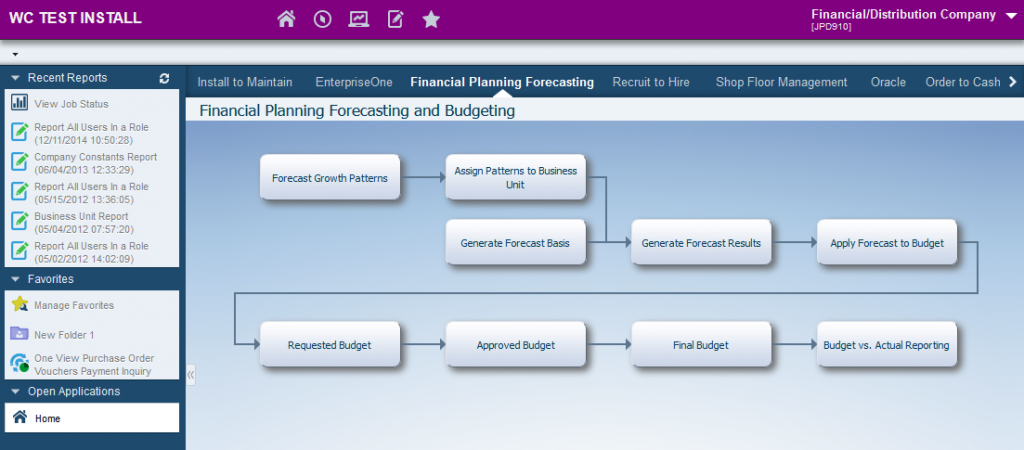 At the company I work for, we like to customize some basic things on the user interface of Oracle EnterpriseOne. The most important part of this modification is to better indicate that the user is signed into a non-production environment by changing the header color. With Oracle's release of Tools Release 9.1.5, EnterpriseOne is now using the Alta UI framework. This brings E1 more inline with Oracle's other software offerings. This change has caused us to redo our UI customizations and also look at how we are doing them.
Since we have 7 separate installations for 7 different companies/industries, we also like to modify the logo in the upper left corner to display our companies' names. In the past, I would have created at least 3 sets of modified files (1 for each environment). That's 21+ sets of files because some of the companies have more than the standard 3 environments. You'll notice from the image above that I changed the header color to purple and the corner image to some text.
Since I work in IT and can't stand repetitive tasks, I don't like having different files for different companies. Also, it would be much easier to maintain and easier to remember to make the modification when upgrading, if the companies could all just use the same files.
So, to make that happen, I modified the e1.js file. This file is located in a directory on your JAS Server similar to the following:
C

:

\

jde

_

home

\

SCFHA

\

targets

\

pd83

\

owl

_

deployment

\

webclient

.

ear

\

app

\

webclient

.

war

\

share

\

js
I tried to use some comments within the Javascript, but if you need some help, either let me know or contact your friendly neighborhood web developer and they should be able to walk you through it and make any changes that you would like.
1

2

3

4

5

6

7

8

9

10

11

12

13

14

15

16

17

18

19

20

21

22

23

24

25

26

27

28

29

30

31

32

33

34

35

36

37

38

39

40

41

42

43

44

45

46

47

48

49

50

51

52

53

54

55

56

57

58

59

60

/*** The code below goes at the bottom of the e1.js file ***/

/*** WC Changes - Stewart Schatz ***/

//Used to test if the user is on the login page or inside of E1

if

(

typeof

jdeLegalInfo

===

'undefined'

)

{

window

.

clearInterval

(

intervalID

)

;

if

(

typeof

BREADCRUMBS

===

'undefined'

)

{

window

.

clearInterval

(

intervalID

)

;

//Used to make our changes

if

(

document

.

getElementById

(

'appName'

)

)

{

//Used for the login page modifications

document

.

getElementById

(

'appName'

)

.

innerHTML

=

wcText

;

document

.

getElementById

(

'appName'

)

.

style

.

fontWeight

=

'700'

;

document

.

getElementById

(

'appName'

)

.

style

.

paddingTop

=

'10px'

;

document

.

getElementById

(

'appName'

)

.

style

.

paddingLeft

=

'10px'

;

document

.

getElementById

(

'loginTopRow'

)

.

style

.

backgroundColor

=

wcColor

;

document

.

getElementById

(

'loginBrandingLogo'

)

.

style

.

display

=

'none'

;

//Used for the modifications inside of E1

document

.

getElementById

(

'Sot13'

)

.

innerHTML

=

wcText

;

document

.

getElementById

(

'brandingArea'

)

.

style

.

backgroundColor

=

wcColor

;

document

.

getElementById

(

'menuAndFastPathContainer'

)

.

style

.

backgroundColor

=

'transparent'

;

document

.

getElementById

(

'topnavOracleBranding'

)

.

style

.

fontWeight

=

'700'

;

document

.

getElementById

(

'topnavOracleBranding'

)

.

style

.

paddingTop

=

'10px'

;

document

.

getElementById

(

'topnavOracleBranding'

)

.

style

.

paddingLeft

=

'10px'

;

document

.

getElementById

(

'oracleImage'

)

.

style

.

display

=

'none'

;

//Used to set the header text & color if not in Production

var

wcUrl

=

window

.

location

.

href

;

//Determine what company this is by looking at the URL example: e1-comp1-jas1.corporate.com

if

(

wcUrl

.

indexOf

(

"-comp1-"

)

>

0

)

{

wcText

=

'Company 1 - '

;

}

if

(

wcUrl

.

indexOf

(

"-comp2-"

)

>

0

)

{

wcText

=

'Company 2 - '

;

}

if

(

wcUrl

.

indexOf

(

"-comp3-"

)

>

0

)

{

wcText

=

'Company 3 - '

;

}

if

(

wcUrl

.

indexOf

(

"-comp4-"

)

>

0

)

{

wcText

=

'Company 4 - '

;

}

if

(

wcUrl

.

indexOf

(

"-comp5-"

)

>

0

)

{

wcText

=

'Company 5 - '

;

}

if

(

wcUrl

.

indexOf

(

"-comp6-"

)

>

0

)

{

wcText

=

'Company 6 - '

;

}

if

(

wcUrl

.

indexOf

(

"-comp7-"

)

>

0

)

{

wcText

=

'Company 7 - '

;

}

var

wcEnv

=

document

.

getElementById

(

'envDiv'

)

.

innerHTML

;

//Determine what environment we are in by looking at the indication in the upper right under the user name

if

(

wcEnv

.

indexOf

(

"DV"

)

>

0

)

{

wcText

+=

'DEV'

;

wcColor

=

'#35a82b'

;

}

if

(

wcEnv

.

indexOf

(

"PY"

)

>

0

)

{

wcText

+=

'PROTOTYPE'

;

wcColor

=

'#ffa908'

;

}

if

(

wcEnv

.

indexOf

(

"PD"

)

>

0

)

{

wcText

+=

'PRODUCTION'

;

}

intervalID

=

window

.

setInterval

(

wcTestIt

,

500

)

;